As an exclusive distributor of Frenzelit GmbH products in Italy, we offer a wide variety of gaskets made of soft materials: high-quality fiber gaskets, graphite gaskets, high-temperature mica gaskets and PTFE gaskets. Furthermore, our offerings include gaskets with silk-screen printing, metal gaskets and textile gasket solutions.
Analysis and design
Our technical department is at your disposal to analyse the behaviour of the gaskets under operating conditions.
All elements of the sealing system, such as the shape and roughness of the flange surfaces, pressure, temperature, types of fluids, etc., must be analyzed to ensure successful gasket installation.
We perform tightening tests using special sensitive films (Fuji Prescale) and analysis software that allow us to detect the pressure level exerted over the entirety of the gasket's contact area.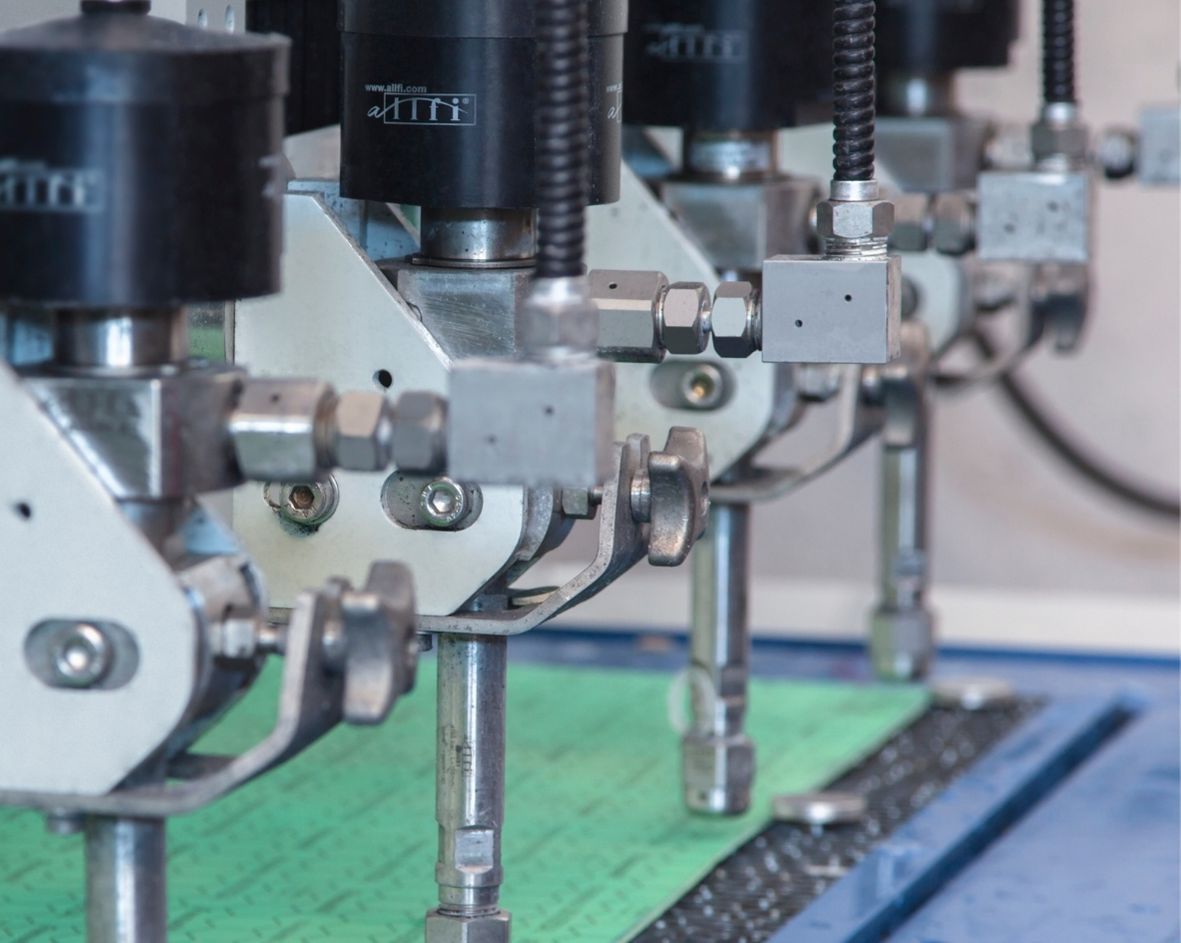 Customized products
We use the information collected from our customers to conduct tests and trials. We suggest customized solutions to our customers, with no size, shape, or quantity constraints.
Our multi-head water-jet cutting machines guarantee fast and flexible prototyping, together with high efficiency in the production of small and medium product series.
Block dies, progressive dies, and dedicated blanking lines ensure high productivity in the production of large batches.
Diversified solutions
Choosing the most suitable material for each application means evaluating various factors, including the fluid to be retained, the temperature, and the internal pressure.
Frenzelit diversified materials possess special properties that are well suited to:
Low surface pressure;
Temperature increases and clamping load variations;
Bolted flanges subjected to high temperatures and torsional loads during installation.
novapress®
novatec®
novaphit®
novaflon®
novamica®
novaform®
Frenzelit GmbH is a worldwide leader in the production of state-of-the-art asbestos-free gasket materials: as an exclusive distributor of its products in Italy, we offer our customers excellent quality and high performance levels.
We guarantee professional technical support services from the development stage to the industrialisation of a project.
We use the best technologies, whether in the production of large and very large series, or in that of small and very small batches. Dies and blanking lines are personalized according to each application. Our modern multi-head water-jet cutting machines guarantee remarkable productivity and short lead times.
We guarantee extremely fast prototyping and the production of small pre-series.